Surfair
The Surfair is a direct-drive floating impeller pump type aerator. It's simple design is based around a screw-type auger impeller rotating at speed within an enclosed tube. This allows for the lifting of large quantities of liquid through the tube that are then directed out over the surface of a basin or tank in a flat splash pattern to mix and aerate the contents.
The Surfair can be designed to operate from quite shallow to very deep vessels by use of a varying length extension to the pump tube that can draw the intake liquid from any depth within reason.
Mixing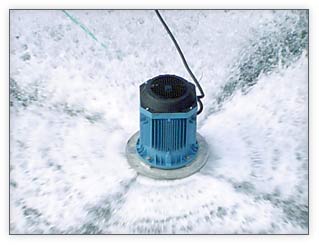 The Surfair is a 'circular zone' type of surface aerator, that is one that mixes from the centre of the unit outwards in a radial fashion. This feature makes the Surfair ideal for mixing circular basins such as tanks or other basins that require higher power to volume installations.
Evaporative Cooling Capability
Given the large pumped volume of liquid contacting the surrounding atmosphere that is generated by an operating surfair unit, there can be a significant advantage in installing these units in applications that require cooling of their water or wastewater as part of their process aims.
Solids Handling Capability
The nature of the impeller on a surfair unit allows for the passing of larger, ragging type solids that exist in some older treatment plants (particularly in municipal applications) – this makes the surfair a good choice for renovation of existing plants that may have ragging problems.
Size Range
The Surfair units range in size from 2.2 kW right up to 55 kW so can be used across a myriad of applications. The units are mounted on an integral float ring typically manufactured in foam filled fiberglass (stainless steel optional), and can be supplied with varying length intake pump tube extensions for varying depths.
Anchoring and cabling information are available on request.
Maintenance
Maintenance on the Surfair is inexpensive and extremely simple. It can be carried out in the field for the most part by unskilled personnel, with little plant downtime experienced.
Australian Design and Manufacture – World Class Equipment
The entire Surfair range is designed and manufactured wholly within Australia with local parts support – and has been exported all over the world.