Diffusers
Ecologix Diffusers
PCPL offer a range of fine and medium bubble membrane diffuser discs and tubes available in EPDM, Santoprene, Viton and other engineered polymers for diffused air applications.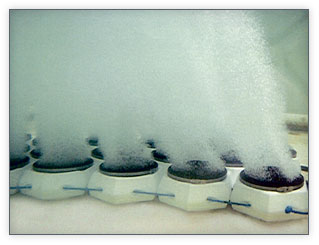 Discs are available with diameters from 235mm right up to 520mm. Tubes are available in many diameters and lengths.
Newair Diffusers
Newair is a revolutionary air diffuser made by Pfleiderer Water (Germany) out of HDPE. The diffusers are solid construction and porous for air throughput.
The HDPE material means that the units exhibit very hugh chemical resistance, even in very extreme pH environments.
An excellent feature of the Newair units are their capability to withstand varying pressures and airflows that cannot be handled by membrane diffusers. This allows air cleaning, and water level fluctuation without complicated air control systems.
Hexair High Density Mats
Hexair high density diffuser mats are a flexible mat structure with integral fine bubble air diffusers that can be lifted in and out of existing locations to supply supplementary air when required. They can also be installed on uneven surfaces (within certain tolerances) and placed into existing situations without emptying or taking a system off line.